About Me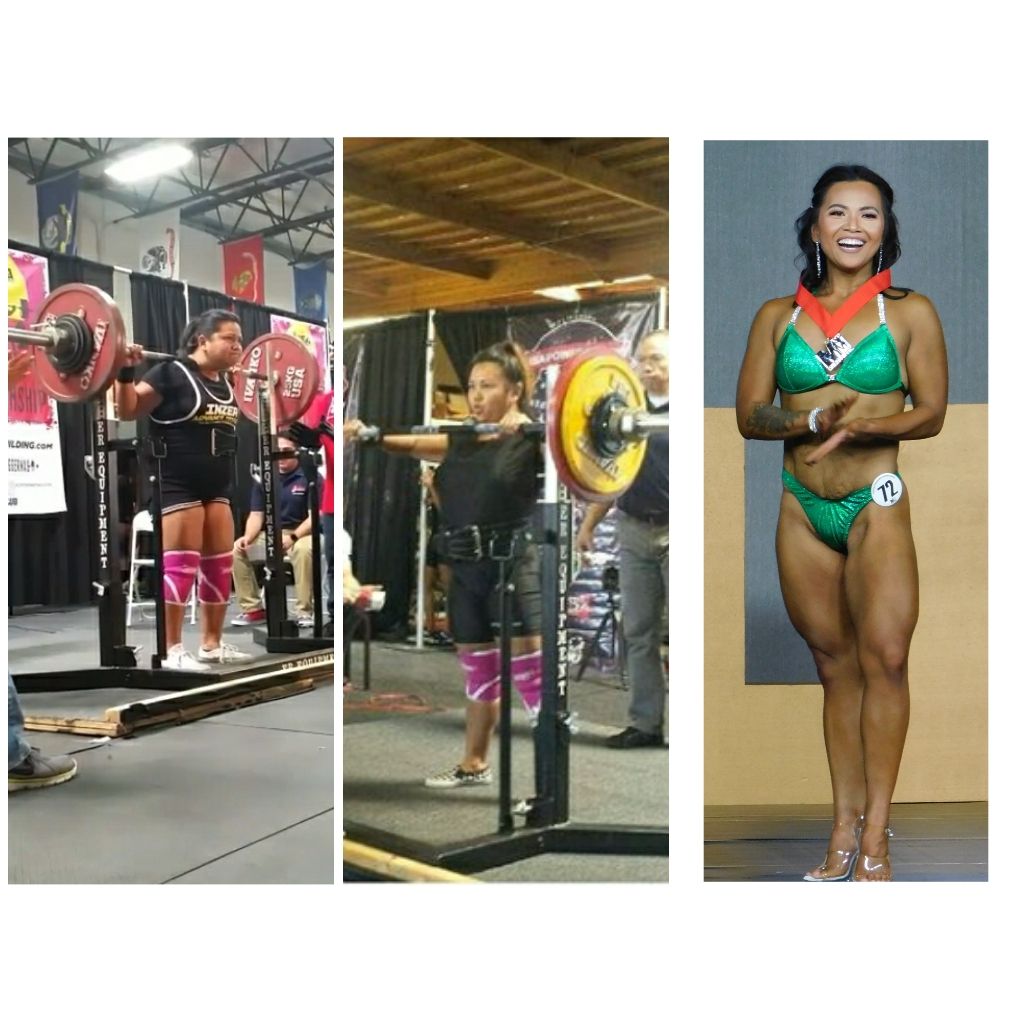 Specialty: Strength & Conditioning, Bodybuilding
If you are here, thank you.
CardioBunny to competitive powerlifter (2x pregnant! Placed 3rd at the USAPL CA State Champs in 2017 for overall 84Kg) to Bikini Wellness competitor (Muscle Icon 2021 2nd Place Bikini Wellness Class A). Through it all, I'm just a lover of overall health and fitness.
I have been everywhere and every size in this journey of being active since 2003. I have learned a lot and I am still learning. The only difference is, now I am able to help you.
Invest in me and I will invest in you.
XO, Star
TESTIMONIALS
My weight loss journey experience with you was a positive learning experience. You start off with getting to know my habits, wants, and goals. She also discussed with me a plan of action which is basic and easy to follow. Throughout my experience with you, you were very supportive and listened to any issues arose. Thank you for your tips, plans, and advice. Your a good listener and a great coach and I am sure others will enjoy your advice as well. I enjoyed this short journey with you and I wish you well in the future. -Jen, Corona, CA
---
My name is Brandi and I met Star at our kid's school. We exchanged phone numbers and became friends. After watching her exercise clips on Instagram, it moved me to ask if I could work out with her. Little did I know that I was gaining a trainer. My experience with trainers has not been the greatest, automatically assume I am a couch potato and eating everything in sight. Star started with my range of motion and what I was capable of. She wanted to know what my goals are not her goals for me. She does not ask you to do something she will not do herself. She has more confidence in me than I have in myself at times.Star is more than willing to modify or adjust the program to your specific needs and with no judgment. Her passion in everything that she does spills over onto everyone that is around her. She helps me to see my potential and encourage me to be my true self. I
am blessed to have Star in my life. If you get the opportunity to train with her, you are on a great path that will lead you to more than just body transformation. From the bottom of my heart Thank you, Star. -Brandi, Cypress, CA
---
⭐⭐⭐⭐⭐
I had the privilege of meeting Star through our oldest boys being in class together. We became fast friends and I was immediately touched and amazed by her gentle, generous spirit, no nonsense outlook on life, and badass, no excuse mom mentality. When she told me she was getting certified as a personal trainer and nutritionist, everything responded with a HECK YESSSSS GIRL! My own fitness journey is rocky at best. I accepted a challenge of training with Star. It was the perfect balance of encouragement with grace for any of my weaknesses and physical hurdles and firm pushing when she sees I can do more. She worked with me and learned how to train someone whose body gets triggered into shutting down but also firmly pushed me to get that extra rep in. I was able to overcome a severe mental block that had developed after having children and had been holding me back. Fitness is a lifelong journey. If you choose to let Star in on that journey, you won't be disappointed! She's a boss babe that works with integrity and will make you work to see your worth and strength and ability to always be able to do more! -Vanessa, Cypress, CA
---
I reached out to Star for help with strengthening training. I'm in my mid forties and my Nutritional Therapist recommended me to add strengthening training to my barre routine. I suffer from fibromyalgia and CFS and I needed to have modifications in my training. Even though I was very nervous at first, I'm glad I went to her. Star not only gave the support I needed but also the modifications appropriate for my level and my health conditions. Her calm voice and encouraging words sustained me and kept me wanting to workout week after week. She also addressed my health issues from a place of compassion and knowledge. She didn't encourage me to shrink my body but rather to become stronger one session at a time. This shift in focus was very helpful. I was able to do things that I never thought I could. I'm so grateful for all her kind words, our conversations, and care. If you need help in your workouts or need a trainer, don't hesitate to contact her. You won't regret it!-Carolin, Cypress, CA